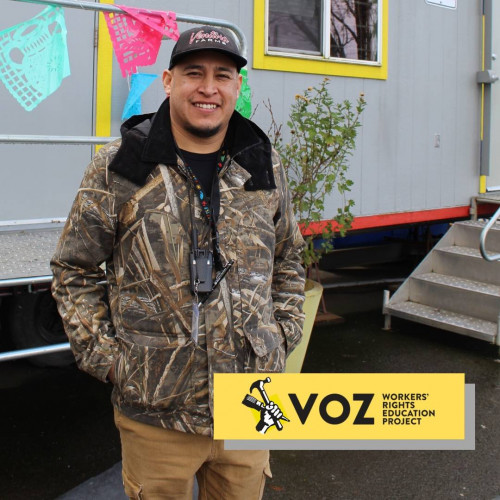 Adrián is a journalist, artist, teacher, and community organizer from Aguascalientes, Mexico. Adrián has a degree in Communication and Information from the Autonomous University of Aguascalientes and studied Mexican Folklore at the University of Arts from the Cultural Institute of Aguascalientes.
In Mexico, he taught Art, Spanish, and English for elementary-college students. Adrián came to the United States in 2015 as an asylee after having done community journalism in his hometown of San José de Gracia. Upon arrival, he worked in both construction and painting, as well as in restaurants and office cleaning.
In Seattle, he worked at Entre Hermanos, an LGBTQ non-profit organization, as a peer educator and outreach worker educating the community about HIV and sexually transmitted diseases. In Casa Latina, a day laborer center in Seattle, he was a Spanish instructor and a health and safety promoter.
As a volunteer, he has collaborated in organizations that work with hospitalized children and their families, migrant children, children whose first language is Spanish, day laborers, the LGBTQ community, elderly people in a state of neglect, and people with disabilities.
His passions are dancing, traveling, writing, reading, and working with the community doing volunteer work. He wants to learn how to play an instrument, play a sport, and find new challenges in life.

Pronouns: he/him
Languages Spoken: Spanish, English
Contact: adrian@portlandvoz.org