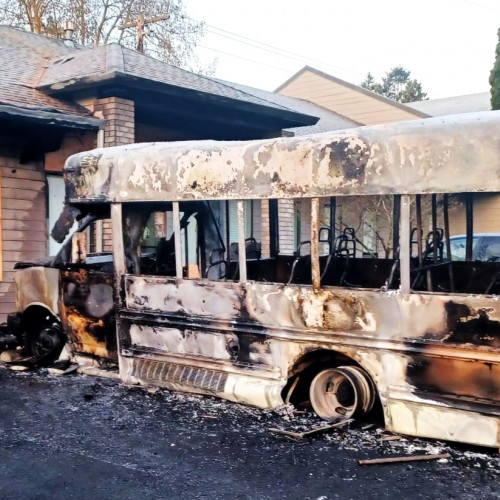 On Wednesday, April 6th, 2022, we had our property vandalized and burned in the middle of the night. The bus you see pictured was the item that took the most damage. Along with the bus, the front part of our building took fire damage, and we suspect smoke damage on the inside of our building which had our computers, laptops, printers and other office supplies. Luckily no one was hurt and the Portland Fire & Rescue team were able to put out the fire in about 15 minutes.
We had just moved into this new building less than three months ago and had plans for renovations on the inside to make the space more our own and to make more room for our members. We barely purchased our van about three months ago with funds we raised last year during the Willamette Week's Give!Guide event. This location is meant to be our workspace for the next five years, but without the funds to recover from the physical damage done to the properties we worked so hard for, we are off to a rough start.
With our building and bus now out of operation, staff will be working remotely to help our members find work. With this said, workers will need a little more time to be able to get to job sites.
Our building and bus are insured, but sadly we are still going to need extra help to recover. If you would like to support us in our current need, please donate to our Fire Recovery GoFundMe, link HERE.
For a video and official report of the fire, click the video link HERE. Note that there is some misinformation as far as the timespan given on when we actually purchased our bus; it was three months ago, not six.
Thank you all for your concerns and continued support!