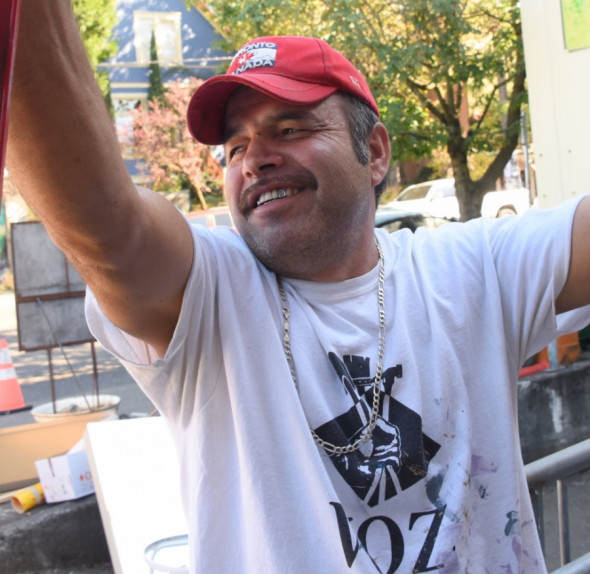 Meet José de Jesús! You might recognize him for his incredible paintings, which have been exhibited in theatres and art fairs around Portland. José has been working as a day laborer at the Worker Center since it first opened its doors over 8 years ago. He says that "The center is a bridge to finding stable jobs. Here, if someone wants to work, they can.My experience here has been one of learning --- how to paint, a little bit of English. I didn't have the opportunity to go to school, so I learnt all the English I know here."
José begin painting after attending several art workshops held at the center years ago. For him, painting is a form of communication and mobilization: "Painting is a way to express myself, my paintings are experiences that I've lived… there are people crossing the border and every year many of them die of heat, of thirst, of hunger. It's an effect of the system. This is the reality! The United States manipulates the situations in latin american countries. The politicians, when they talk about immigration and how they want immigrants to leave, they had something which is that they themselves are causing a lot of the problems. A lot of the time, people aren't too informed about these issues because they didn't have the opportunity to learn about them in school. In this way, my art is a form of protest.
Your calm presence and creativity always light up the center… we're thankful to have you as part of our community, José!