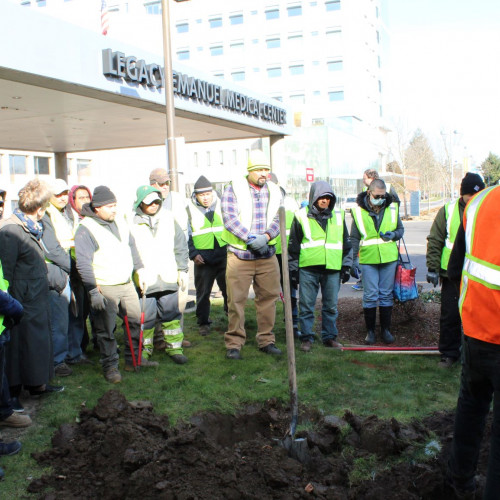 Not only did day laborers improve the Legacy campus by making it more environmentally friendly and beautiful, they also learned valuable job skills and are now trained to plant trees on projects around the City. This is the first of many training of this kind that Voz will be providing to day laborers. This is the great kickoff of the Workforce Development program that aims to train more workers in green jobs to increase the likelihood of being hired for upcoming projects in the Portland metro area.
This is a project intended to achieve several goals. It is a training opportunity, which will practice language, culture, hands-on micro skills, as well as contextualized skills on site. It is also a community restoration project, which will have lasting impacts on improving the air quality, stormwater drainage, and beauty of the Legacy campus. Finally, it is an exciting launch of day laborers into the local green economy.
Portland recently passed to local ballot measure known as the Portland Clean Energy Initiative. This Initiative acknowledges that while communities of color face disproportionate impacts of climate change, they are barred from accessing many of the benefits of green infrastructure and the green economy. Voz is here to say that day laborers are an important part of an equitable green economy, and we will be providing trainings to our workers to build green jobs skills that benefit not just our workers, but the entire Portland community.
We can already see the benefits of these programs in the reactions of those who participated in the Legacy tree planting yesterday:

"Trees add to the landscaping and create a healthier and more welcoming environment for our staff, neighbors, patients, and visitors," says Teresia Hazen, Legacy Health coordinator of therapeutic gardens. "In addition to the aesthetic benefits, trees create cleaner air and cools our campus."
"For me, this experience is excellent, I hope this is not the last one. This is the kind of activities we need. I think we start this year with the right foot, especially at this time of the year when the good weather is coming," said a day laborer.
"I think is amazing. First, we will learn new techniques on how to plant trees. Second, we will get paid for this training and third these activities encourages communication between the community and Voz. This is the first time in 10 years that I do something like this," said one of the workers who participated in the training.

Voz Interim Executive Director, Sandra Amolo, is excited about what these partnerships represent. "Collaborative projects through the Workforce Development Program are vital to give day laborers visibility and connect them to greater opportunities that enhance our cities and engage with our neighbors throughout the city. This project represents our values of advocating for equitable economic opportunities, where day laborers can gain new skills and become exposed to work that increases day laborer access to fair wages and just working conditions"
Day Laborers from Voz worked together with Friends of Trees to plant the first 30 trees. The City of Portland's Bureau of Environmental Services donated the trees as part of a project that helps to manage stormwater and drainage.
These 30 trees are just the beginning. Legacy Emanuel Hospital expects plant 150 trees total within the next months, and Voz will continue providing green workforce development trainings that benefit our community!