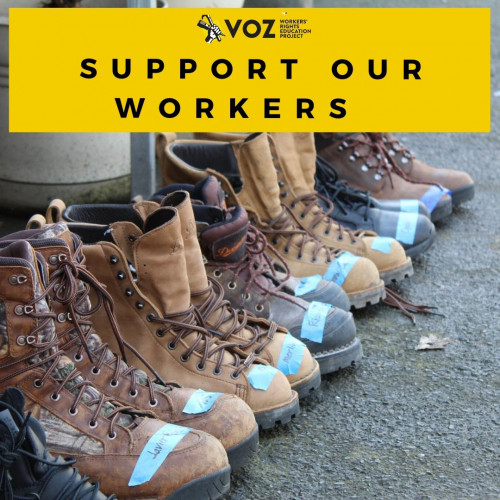 Updated April 2020.
We are continuing to dispatch our workers to jobs from 7am to 2 pm Monday through Friday and Saturday from 7am to 12pm, as long as we feel confident work can be completed in a manner that complies with current health guidelines and that each individual is able to maintain at least six feet of distance. We have many workers here who are ready to help and are looking forward to the opportunity to go to work!
We are working diligently to follow guidelines from the CDC and the State of Oregon, and we are working with our day laborer community to do the same regarding hygiene, sanitation, and social distancing. As such, we have made two key changes to ensure the safety of workers, employers, and staff:
1.) The doors to the MLK Jr. Worker Center are temporarily closed to everyone except essential staff. We will only be on-site Monday, Wednesday and Friday from 8am-12pm. After those hours, the Voz team will still be working from their homes to dispatch workers and provide other needed resources.
2.) We are asking our workers to stay at home until they are called out for a job, instead of waiting at the Worker Center. Due to this change, we will have to call the workers and send them out from their homes. Please be aware that many of our workers are not privileged to own their own vehicle and depend on public transit. We will do our best to coordinate to get the workers to the job site in a timely manner.
If you would like to hire a worker, please give us a call at 503-234-2043 or submit a request online. This will give us more time to coordinate with the workers in order to send them to the job site.
Voz has also established an Emergency Solidarity Fund to support our day labor workers during this time of economic uncertainty. We are also seeking donations of non-perishable food and household items for the workers and their families. Thank you for being part of our community; we look forward to helping you soon!